The campaign won the Gold Award in the Media Lion category of Cannes Lion named "Back to Vinyl – The office Turntable" was given expert advice to Kontor by Ogilvy Germany, the largest record company producing dance music. One of the original features of the campaign was using QR Codes creatively.
In many marketing campaigns, it can be seen that QR Code is used superficial, rarely with natural effect. Whether due to QR Code was on the wane or we have not found a suitable way to deploy it yet? We want to introduce some marketing campaigns applying QR Codes successfully around the world with varied and exciting applications.
The campaign "Back to Vinyl"
As I mentioned initially, this is a campaign of renowned Kontor record company to introduce Boris Dlugosch's music product to the advertising world. However, they only specifically target the "toughest" objective: creative agency directors, as well as avoid spreading CDs and reaching only the secretary or even being thrown into the dustbin.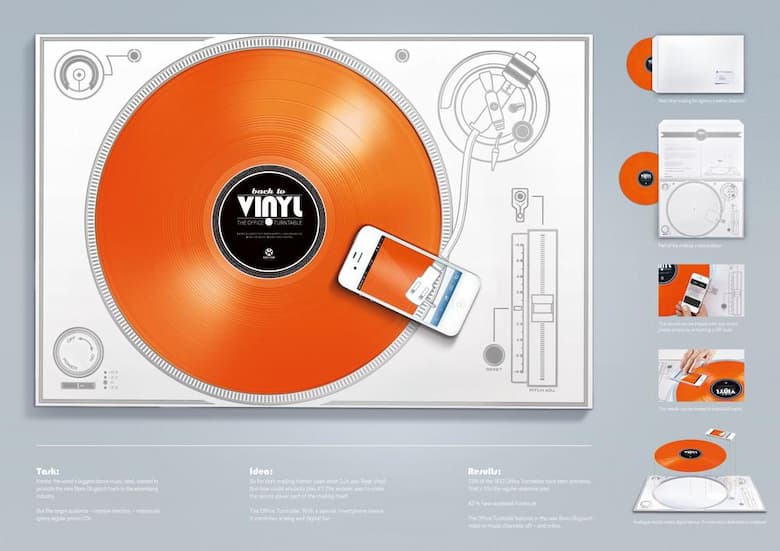 To approach this target group, we need a groundbreaking idea inflecting the substance about business and product to make a strong impression. There is nothing better than the combination of modern innovative technology and the "classic" one around for many years – the vinyl record with stylish orange can be listened to by a box envelope included. It's unnecessary to download. Cumbersome accessories are optional. Just needing a digital device, you can enjoy music on an impressive vinyl record.
"Our mission is to find a way to overcome all the impediments to get the disc to the objects and persuade them to listen to these music products. As real DJs, we know that there is always a way to attract customers: playing music on standard and cool vinyl records. And those are original products sent to the creative directors: not CDs, MP3 files or USBs, they are old-style vinyl records."
Result: 71% of the total 900 office turntables dispatching were active. This rate was 64% higher than the total number of interactions with previous Kontor campaigns. 42% visited Kontor's online store after using The office turntable. The record company also received many valuable feedbacks from VIPs in the advertising industry.
Victoria Secret's campaign – "Sexier than Skin"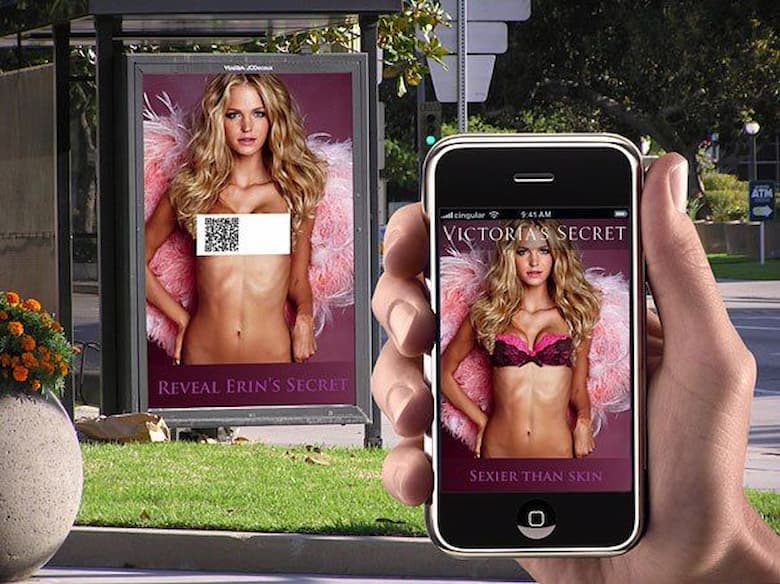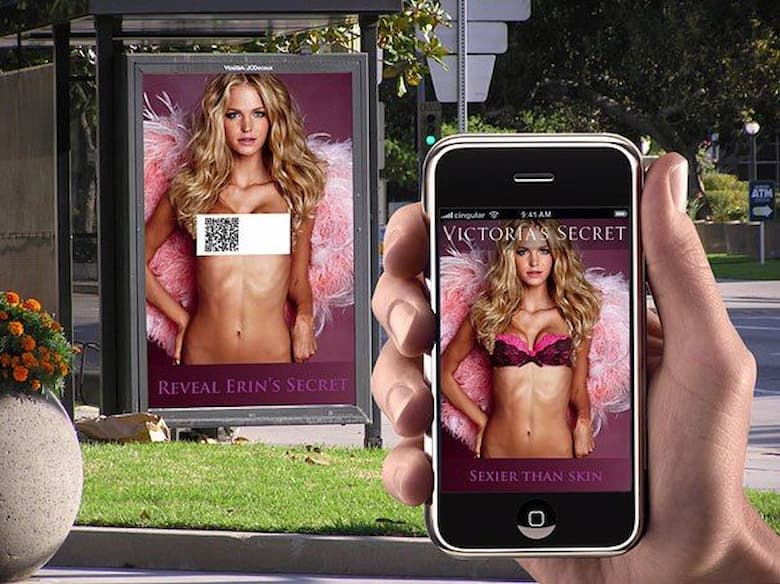 Following creative integrated marketing communication for hot products, Victoria Secret used QR Code for its "secret" promotional campaign. Realizing that one of QR Codes' particular nature that encoding images or writings can stimulate curiosity and discover advertising viewers, Victoria's Secret turned their marketing posters at the public location into an undiscovered secret.
Victoria's Secret boldly put signs of its "angels" with sharp body curves obscured by a QR Code at crowded communal places. A modern and open-minded user would want to scan these codes immediately to find messages printed daringly on the posters: "reveal Erin's secret", "reveal Lily's secret",… and received model image with sexy lingeries of Victoria Secret.
Besides full photos of these models, product information and instructions of online purchases are also automatically displayed, encouraging buying from viewers.
Conclusion: "Sexier than Skin" is a marketing campaign successful than expected with maximum efficiency from the minimal force. The campaign has received many multidimensional feedbacks from viewers. However, no one can adequately deny that the campaigns exploiting the sexy can fully make a hit and bring success to the brand.
Heineken's campaign – U-Code
On the sidelines of the Open'er Music Festival in Poland, Heineken carried out the U – code campaign and used QR Code to emphasize and support its new message: "Open the world".
With the mission that diffuses the company's new message in the Open'er Music concert, Heineken began the campaign with a simple question "Why do people go to music festivals?" The answer was highly plain: music and the chance to make friends. The idea of taking music lovers closer together with the QR Code app was born. At Open'er Music, everyone could turn to Heineken's activation booth to create their personal introduction paragraph and encoded by QR Code. Then, this code was printed on a label and attached to their clothes.
The QR Codes with unique content has become a link to remove the initial embarrassment of festival attendees. They were confident (and had a proper reason) to approach another object to scan QR Code and get into the conversation. Many festival attendees had new friends, and Heineken's new message also spread widely on social media by attendees.
Result: Within 3 days of the festival, more than 5.000 QR Codes were created, and tens of thousands of people had the opportunity to contact the message "Open your world" as expected. Heineken's campaign had great success in approaching the target audience at an affordable cost.
Budweiser's campaign – Budlocks
Another successful example of using QR Code is the campaign "Budlocks" of American brewery Budweiser in Ecuador to extend "Happy Hour" with QR Code. In this program, during "Happy Hour" at particular places, customers would receive a QR Code when buying Budweiser beer.
When you scanned the Budlock electronic watch code, it would automatically increase Happy Hour time on the clock, giving customers more time to enjoy the special treatment of entertainment places. Budlock watches have raised the Budweiser brand identity by offering customers practical benefits with their demands.
Result: During the campaign, Budweiser increased more than 6.000 minutes of Happy Hour and took the drive to 50.000 people, with more than 44.000 people being new customers.
Finally, few notes when using QR Codes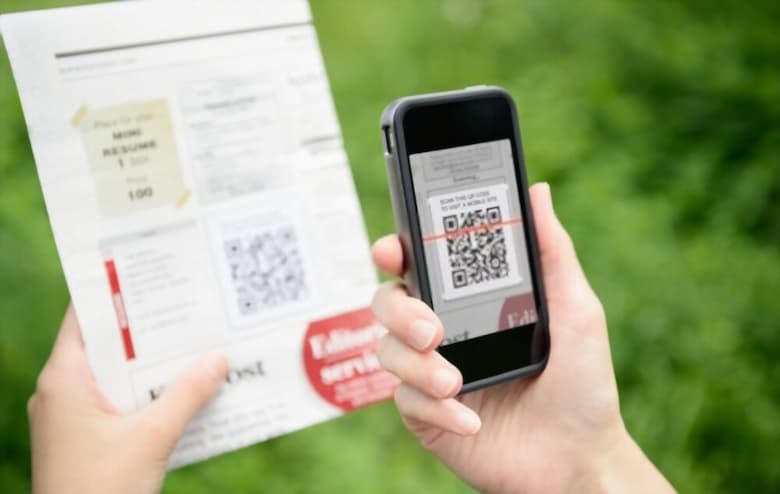 QR Codes can bring more successful results than expected if used creatively and take surprising experiences, especially applying to particular "Activation". However, there are a few notes when using QR Codes:
First, and of course, ensuring that the ideas and methods you use are good with business or campaign: make a plan and take action with specific goals.
To read QR Codes, you need a smartphone or tablet. You must install an application that can read QR Codes. Then, the barrier to "contact" potential customers is enormous. You make sure that the information contained in your code is appealing to stimulate community action.
Please note that there is always a cool call-to-action and link to a readable site on the mobile/ tablet.
Using QR Codes of the right size and in places, customers can easily stand and scan the code. Avoiding locations too far to examine, dangerous or inappropriate ones,…
Testing: ensuring that different mobile/ tablet versions can read your messages.
Finally, keeping track of results: You can find out who, when, how often, and who scanned the QR Code activity stream. Customer insights (information about customers) are always a valuable property that new technology on mobile can bring to businesses.
Tip: You can easily create the custom QR Codes for your marketing campaigns by using Free QR Code Generator!