QR Code is a type of barcode used popularly nowadays, appearing everywhere, especially the primary mode of identification for mobile applications.
The QR Code introduction is a significant step compared to traditional barcodes and an efficient tool for developing e-payment using smartphones later. Then, what is a QR Code? How to use it?
Some of the following necessary information will help you more understand this extremely convenient barcode!
What is a QR Code?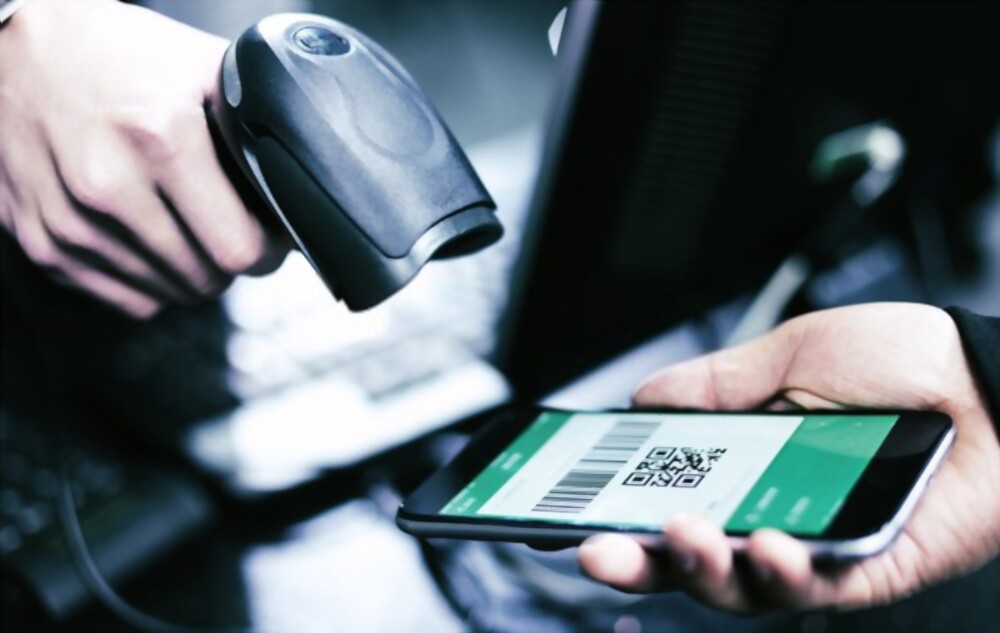 A QR Code is a type of matrix barcode (or two-dimensional barcode, quick response code) developed by the company Denso Wave (Japan) in 1994. The word QR stands for "Quick Response" since its creators intended to allow the code to be decoded at high speed.
Although the QR Code was initially used to keep track of car manufacturing parts, it is now used in inventory management in many different industries. In the past few years, QR Code reader software has been installed into smartphones and used to identify many applications.
This results in new and diverse consumer-oriented apps, making it easier to enter data into mobile phones. A QR Code can contain information about a web address (URL), an event's time, contact information (such as vCard), an email address, an SMS message, a text message, or even geolocation data. Depending on which QR Code reader you use when scanning, it will lead you to a website, call a phone number, view a message…
And the most popular QR feature is now taken advantage of by apps. It is a payment, speedy and convenient.
Applications of QR Codes
The main advantage of QR Code is its flexibility. QR Code can contain many different types of information, so it is used for everything. It also benefits both customers and businesses. For instance, a company saves money and advertising costs by distributing QR Codes to their website or URL. A customer can scan this code, and information will be stored until needed later.
The better thing is that QR Codes can connect forms of marketing. For example, e-commerce and mobile commerce are both used for QR Codes. The QR Code acts as an affiliation, and it also takes customers to other forms of advertising that the QR Code business or service has done. It maximizes exposure and can generate revenue.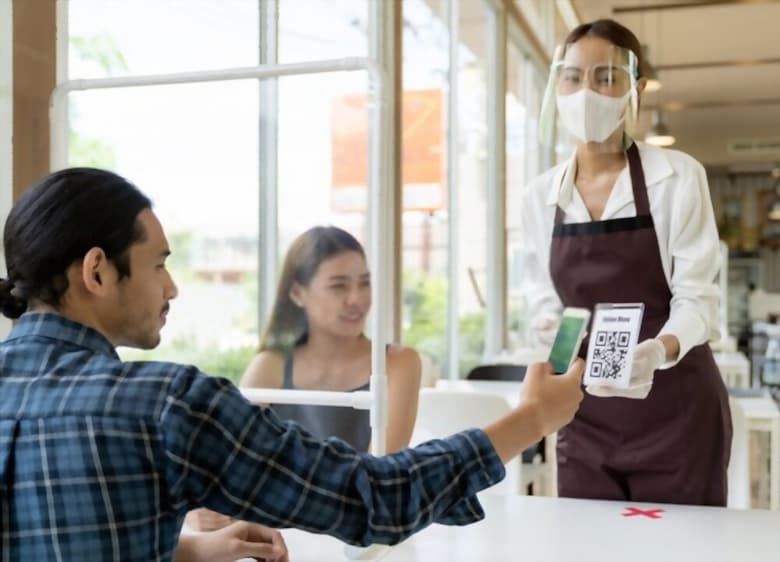 Some of the popular applications of QR Codes include:
Inventorying the goods, product information. Personal information: card visit.
Storing URL: use a mobile phone to read the QR Code, get the URL link, and then open the web browser.
Applications at bus, train, and metro stations: after QR Code users scan the stations' codes, they will know information about drives.
Using in museums: users need to scan the codes placed next to the exhibits to know information and updates about them.
Using in supermarkets: to know cooking information, instructions as well as nutrition facts of food to buy, origin, expiry date,…
Using at meetings, presentations, public events, concerts, live-shows,…: attendees can use QR Code instead of their Business Card.
Using in restaurants, hotels, coffee shops to know the recipes and food, drinks processing, hotel information.
Using in marketing communication, gradually replacing advertising in the form of printing and handing out the leaflets. QR Codes will
attach brand information to publications, shop signs, billboards,…
Using QR Codes to make a difference in email signatures, on the gifts to surprise and especially for recipients, makes them curious about the attached QR Code's content.
Using for simple texts – welcome messages in the conference.
Being used as a home, personal, or business address or phone number.
Linking of applications found on Google Play or App Store.
Being used for payment – the most popular app currently: QR Code can store information about a user's bank account or credit card.
Verifying online account: websites can display a QR Code which user registered, then scanning with a smartphone and automatically log in.
Verifying Wi-Fi – QR Code can be used to store Wi-Fi networks authentication details such as SSID, password, and encoding type: when you scan QR Code with your smartphone, it gets automatically access that network.
In fact, you can store many types of information in QR Codes, and it all just depends on your demands. You can find QR Codes in lots of different places, maybe on business cards, utensils and electronic device packaging, commercial, billboards,…
What are the real benefits of using QR Codes?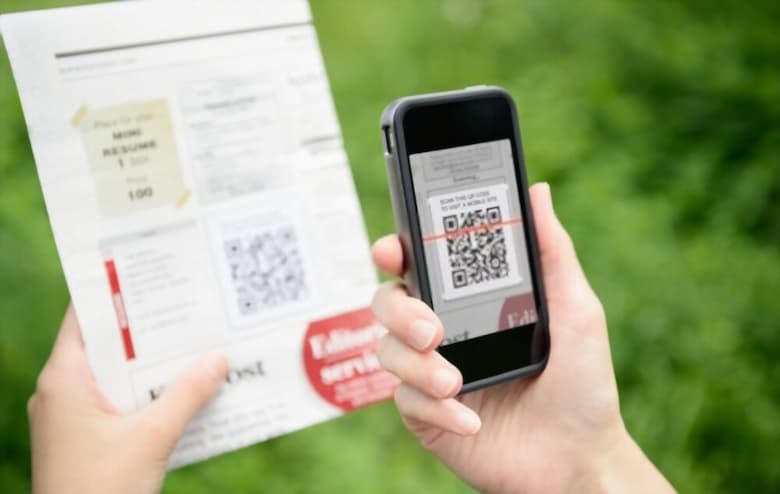 The invention of the QR Code has created a revolution in applying technology to many life activities. QR Codes help to shorten the time to do actions while still bringing the effect as desire. It is an excellent way to store all kinds of data in a small space. Specifically, QR Codes make users feel satisfied with the following significant points:
Dedicated devices are needless
One of the first benefits of QR Codes is helping to cut down carrying out actions. You can pay without a card, or join a concert without taking a ticket, etc. With the maximum integration with a smartphone, all the activities that use QR Codes now need an available camera on the phone.
Quick and easy to use
If not QR Codes, the only way to connect consumers to online content is by using a URL. But typing a URL is time-consuming and inconvenient on a mobile screen. Consumers are also likely to make errors while ordering. Compared to this, scanning a QR Code is a much faster and error-free process.
Another example is that customers can withdraw money from the ATM simply by scanning a QR Code on the ATM screen using dedicated apps. Wintrust Financial and technology provider FIS launched about 200 ATMs, allowing them to withdraw money by QR Code without a card in the US. It takes only 8 seconds compared to 47 seconds for regular withdrawal.
Customers need to scan the QR Code on the ATM screen without typing information, card, or account number like other payment modes. The transaction will be completed quickly in a few seconds. This shows that QR Codes are faster and convenient for the user. It is one of the main reasons why QR Codes are so popular in China.
Contains a lot of information in one place
Unlike online marketing, printing advertising or print-based marketing campaigns have limitations, particularly in real estate. You can use newspapers, product packaging, and brochure. However, the invention of the QR Code has allowed users to access information unlimitedly.
In 2005, Nestle's popular product in India – Maggi noodles – got banned due to authorities supposing that it contained excessive lead. The ban was soon lifted, but Nestle knew that people now had not believed them as before. To gain their trust and portray itself as transparent, Nestle wanted to share a detailed list of ingredients and other important information on safety, environment, society, and recipes.
It could not print all of this on the packaging. Therefore, the company added a QR Code that led buyers to the mobile site with all this information. This is also applied thoroughly in promotion programs, advertising of brands. Users can scan the QR Code to find out more about the program information instead of printing it all on the packaging.
Interacting with varied content
Words always have their power. But a picture is worth a thousand words. And a video has thousands of pictures. Audio also brings many conveyance's strong points. Unfortunately, these varied content forms can not be shared via print promotions – unless you add a QR Code. Using QR Codes, marketers can share diverse content via their print promotions and more attract their audiences.
For instance, packaged food company Chef's Basket added a QR Code to the packaging of one of its pasta products. When scanned, the QR Code redirects the consumers to a video of the pasta dish's recipe.
Highly actionable
While print media still works well for branding, it is not interactive like outdoor or digital marketing. But with QR Code, it can be. By adding a QR Code, you can make your promotions interactive and take more information from your target customer. You can run a contest, get people to register for a product or event, take feedbacks, or allow your customers to purchase immediately from a newspaper advertisement or leaflet.
A good example is World Park, a QR Code-based campaign run in New York City's Central Park in 2010. QR Codes on boards were placed in different locations in the park. When scanned, the QR Codes engaged visitors in a Quiz on the park's history, popular culture, art, music, science, and geology.
Easy to store and high safety
Another advantage of QR Codes is that the user can easily save the data on their smartphones. Especially with a payment app, it also brings high safety for users. Storing payment information on personal mobile phones and buying goods everywhere is much safer than carrying a wad of money, or bank card, credit card. It can create a large gap that makes malefactors steal account information and carry out scams.
With two security layers and a unique QR Code format (according to global standards of international EMVCo), customers will completely set their minds at rest when making payment transactions with QR Code.
How to quickly create a QR Code for free?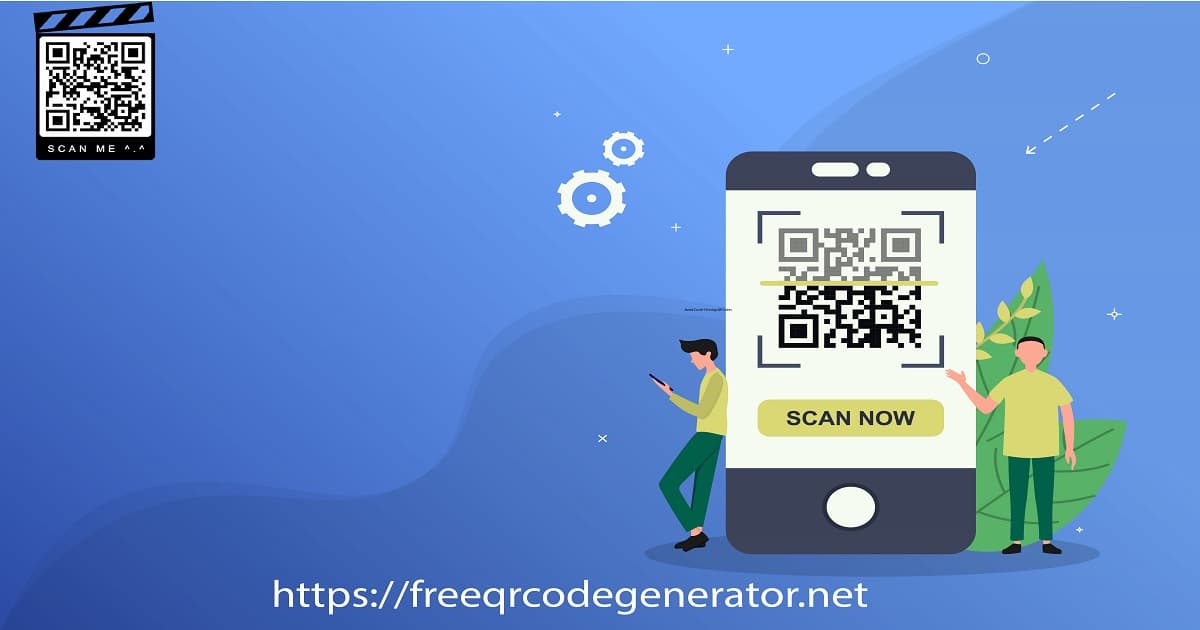 There are tons of QR Code generators out there, typically the following 8 tools:
Freeqrcodegenerator.net (Quick, Free, Unlimited)
GOQR.me
Free QR Code Generator by Shopify
Visualead
The-qrcode-generator.com
QR Stuff
Qr-code-generator.com
QR Code Monkey
Create QR Code by Google App Engine
The best code generators will give you many options for using your QR Code and compatibility with most mobile QR Code reader apps.
Moreover, you need to keep in mind the factors when looking for a QR Code generator, like whether you can keep track of, analyze performance, and if it allows you to design a code that's unique to your brand. Some QR Codes, for example, display logos and other icons within the code that immediately tell people what information they will get from scanning it.
Today, I'll tell you how to create your custom QR Codes with Freeqrcodegenerator.net – the best free QR Code Generator I've ever use. With this tool. the QR Code creation process is pretty simple, easy straightforward. Here are 7 steps to help you quickly make a QR Code for individuals or businesses:
Step 1: Visit https://freeqrcodegenerator.net
Open website: https://freeqrcodegenerator.net on your browser (working well on mobile, PC, or tablet).
Step 2: Choose the type of content you are promoting
First, select what type of content you want your QR Code to show the person after scanning it. You can choose from one of the 14 types, as shown in the screenshot below. This tool supports many types of QR Codes such as link, email, event ticket, v-card, bitcoin, PayPal, phone, custom text, etc.
For this example, we will promote a URL that directs users to our Whatsapp.
Step 3: Enter your data in the form
After choosing the type of QR code, a field or form will appear where you can enter the information that corresponds with your idea. For instance, if you want your QR Code to save contact information, you will see a set of fields where you can enter your email address, title line, and associated message.
To save a Whatsapp, we will enter the URL in the form that appears, like so: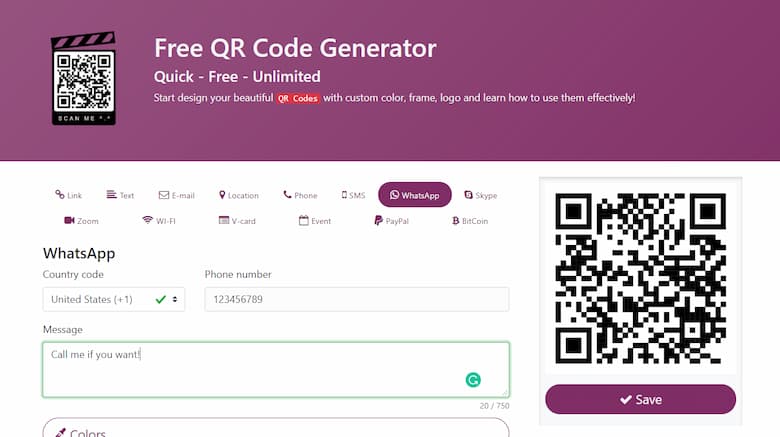 Step 4: Customize QR Code
The wonderful part of creating QR Codes is customizing the design of the code to suit your brand or your personality. Want your code to look like your logo? Want to add a frame, border? Let's try with the code generators above.
Using https://freeqrcodegenerator.net/, we can customize our QR Code with many options and created templates. Keeping in mind that not every QR Code maker offers this design option – depending on the QR Code you want to generate, you might find some tools limited in their functionality.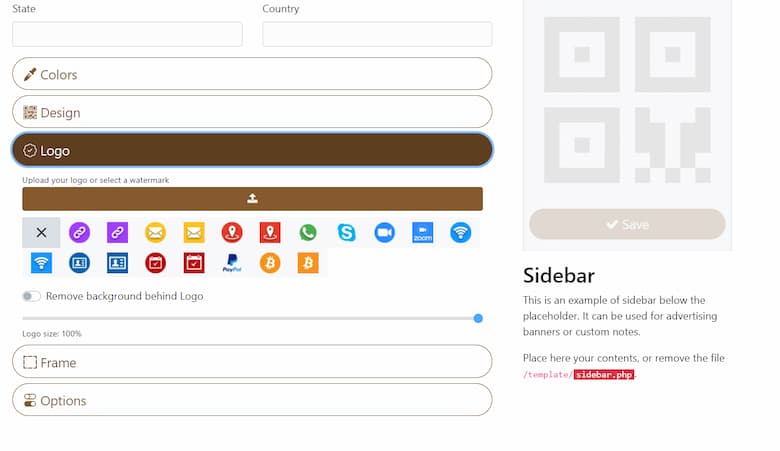 Of course, you can customize your QR Code further – adjusting the colors, adding a logo, creating social options, etc. However, some customizations can make it difficult for QR Code scanning apps. Therefore, you should generate two versions of your QR Code – one plain version and another with your preferred design.
Step 5: Test the QR Code to make sure it scans
Because some design custom features of QR code generators can make it difficult for some mobile apps to "read" the code, don't forget to check to see if the QR code reads correctly. And be sure to ask many people to try it at the same time. Some QR code reader applications include Google Goggles, QR Code Reader, Apple Passbook, etc.
Step 6: Download Your QR Code Image
Click Save Button and your QR Code is ready to download. Now you can save it as .png image or .svg, .eps vector (That'll work well in design software like Adobe Illustrator or CorelDraw).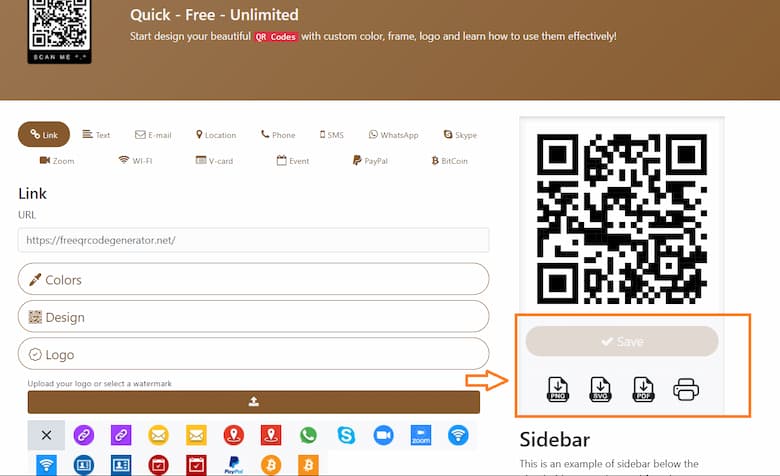 A QR code wouldn't be able to do its job unless it was widely distributed to the users. So make sure you come up with a distribution plan for sharing the code with your customers. You can display it on social media, the restaurant menu, name card, in print advertising, on clothing, or at actual events locations and encourage people to take their phone to scan it.
How to use QR Codes most effectively?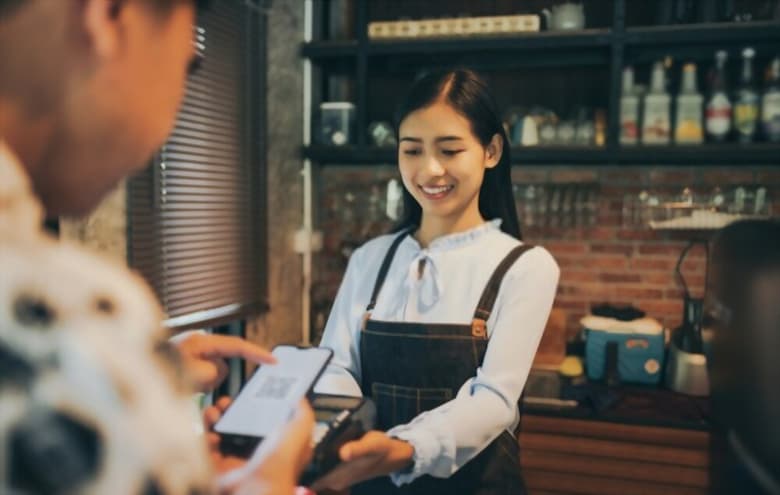 After making a QR Code, you need to know how to use it properly. Here are some common examples of using QR Codes effectively in your campaigns or business.
Displaying your QR Code in a convenient and conspicuous place
Put QR codes in places where scanning is easy, and there's enough time for the consumers to scan the code. While you may often see QR codes on billboards and commercials, they're not exactly the most user-friendly locations. Thinking of other places and mediums where consumers have more time to scan the code, ideally, there is a Wi-Fi connection.
Optimizing the QR's landing page for mobile devices
Typically, consumers will use their phone to scan the QR code, therefore, optimizing the QR Code's landing page will help them have a better experience since helping you soon achieve your campaign's goal.
Adding a CTA with a QR code
Offer a call-to-action (CTA) with the code to tell people what they are supposed to do when they see the code and receive it after scanning. Not everyone knows what a QR code is and has no motivation to scan the code unless they know what value they deserve.
Do not limit a QR code to a mobile scanner
Do not ask everyone to use a unique QR code scanner. Your QR Code should be a simple code that can be scanned by any application or mobile phone. Small barriers sometimes will make to decrease the success rate of your campaign.
Using QR codes to make your life easier
Never think that you can only use QR Codes for personal purposes. If you have content that makes sense to distribute to a mobile user and have an appropriate channel to do it, it's more likely your QR code will bring more success.
For instance, in South Korea, grocery store chain Tesco promoted business activities using QR codes in subway stations to let riders order their groceries while they wait. It's a great example of using QR codes for the right goal, at the right place and time.
Simultaneously, it also brings enormous community value.
Conclusion
QR Codes have been making our life faster and more convenient. Individuals, businesses are also trying to utilize QR Codes' advantages to create useful apps for their customers, especially payment apps, to bring a great shopping experience. In the future, QR Codes will go on carrying many new advances in life if businesses fully utilize their potential.